Chris Paul is the kind guy you use to sell insurance. Rajon Rondo is the oddball basketball savant who always has a scowl on his face.
Rondo believes that's why he was blamed more for the fight between the two of them that went down Saturday night at the Staples Center
"Of course, the NBA went with his side because I got three games [suspension] and he got two," Rondo told ESPN. "Everyone wants to believe Chris Paul is a good guy. They don't know he's a horrible teammate. They don't know how he treats people. Look at what he did last year when he was in L.A.; trying to get to the Clippers' locker room. They don't want to believe he's capable of taunting and igniting an incident ... He comes out and says I spit and the media sides with that."
As for the spit ... Rondo says he didn't do it.
""Y'all are playing me with these tricks or these mind games, tampering with the evidence," Rondo continued. "Ain't no way that I intentionally spit on you with my body language the way it was. One, if I spit on you, bottom line, there is not going to be no finger pointing. If you felt that I just spit on you, then all bets are off. Two, look at my body language. If I spit on you on purpose, I'm going to be ready for a man to swing on me. You ain't going to have my hands on my hip and my head look away at someone if I spit on them. After the [expletive] goes down, within 30 seconds, you run and tell the sideline reporters that I spit on you? If I spit on you, you are trying to get to me. You not trying to make up a story so you can look like a good guy. It makes no sense to me."
Are you buying that?
Looks like Rondo DID actually spit on Chris Paul 👀 pic.twitter.com/LNiTfJHibW

— NBA Center™ (@CenterOfNBA) October 21, 2018
Update: Glen Davis, who's played with both, agrees with Rondo.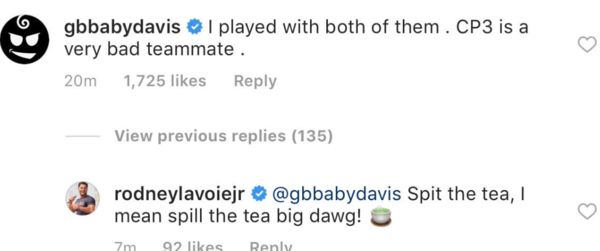 And another ...

Ryan Hollins played with Chris Paul for two seasons in the NBA. I asked Hollins what he thought of Paul as a teammate, given the recent negative comments from Rajon Rondo and Glen Davis.

"He has some growing to do," Hollins said of Paul. "Everything that glitters ain't gold." pic.twitter.com/OYWpM6LmXN

— Alex Kennedy (@AlexKennedyNBA) October 23, 2018
Discuss