Just because he's G.O.O.D Music's president now, doesn't mean Pusha T won't be coming out with new music.
In fact, he's about to drop the Timbaland produced track 'Untouchable.'
Today, Pusha T took the unusual step of releasing the track's lyrics before the actual track. We're thinking it's because of these bars:
I'm aiming for the moguls, why y'all niggas aiming at the locals? And rap niggas broke like them, they're mere hopeful Still wishing on a star The last one to find out that Baby owns the cars
If you remember, T was quick to jump in when Lil Wayne  first announced his dissatification with his "daddy" Birdman and Cash Money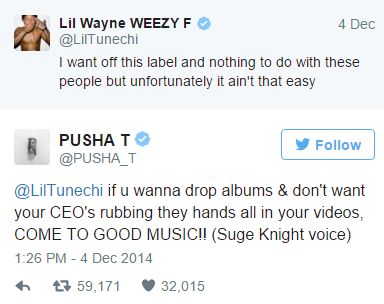 This Tweet was particularly notable given that Wayne and Pusha have a rocky history.
Now Pusha's revisiting the Wayne-Baby breakup in his first song as label boss. While he's certainly mocking Wayne's naivety in his bars, we're also thinking he'd still love to have him on the G.O.O.D. Music roster ...
Discuss