Yesterday, the world was scandalized by reports that a bag of air from a unspecified Kanye West concert was going for 60 grand on eBay.
The labeled bag had 90 bidders, however eBay pulled the auction because the seller couldn't prove it was actual 'Ye-infused air, and because nobody actually believed anybody would be paying that much cash for whatever it was.
Never fear, more sellers of Kanye-concert flavored air have popped up all over eBay.
As far as we can tell, the only seller getting serious traction is the one offering "Kanye West Yeezus Tour FRONT ROW AIR!!! MORE THAN 20 GALLON SIZE BAGS FOR SALE!"
That one has nine bids and is currently at $305.
But look a little harder and you can purchase the exact same concert air for under ten dollars from another seller.
Then there is this disturbing offering which begs the question how did the seller capture one of Yeezus's farts? Maybe we'll learn more about that when we get the Amber Rose tell-all book detailing Kanye's kinky sex secrets.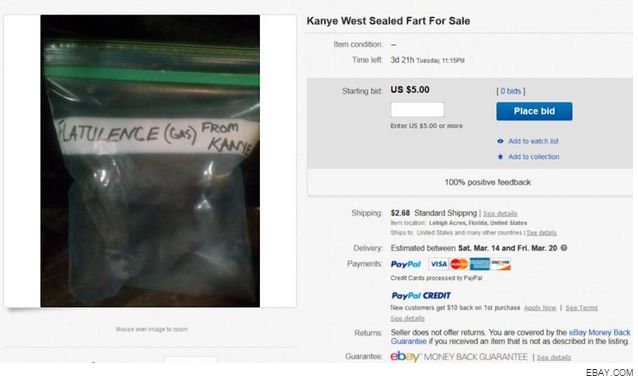 For the latest Hip Hop tracks and news, follow us on Twitter.
Discuss