A 12-year old girl in Fairfax, Virginia is facing charges of threatening her school after putting this message up on Instagram: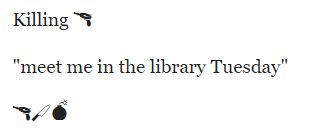 It's not the first time a teen has been in trouble with the law for posting emojis.
17-year old Osiris Aristy was recently charged with making a terrorist threat against law enforcement after posting a Facebook message that read "Nigga run up on me, he gunna get blown down" followed by a police officer emoji with three gun emojis pointed at its head.
In that case, the grand jury declined to indict Aristy. The 12-year old in Virginia will get her day in juvenile court next month.
Of course teenagers aren't the only demographic to use emojis, violent or otherwise. Hip Hop artists also love the little icons.  And with more and more rap beef moving to social media, it may just be a matter of time before a rapper gets busted for threatening another rapper with an emoji.
Discuss