Charlotte Hornet PJ Washington thought he'd be the one who tames Fitness model Brittany Renner, who's been linked to James Harden, Drake, Lil Uzi Vert, Jamal Murray, Ben Simmons, Trey Songz, Chris Brown, Colin Kaepernick, and more.
He thought this even though she's seven years his senior and she literally wrote a book about sleeping around.
He was wrong. He didn't figure that out until she birthed his child.
Now he's Tweeting and deleting.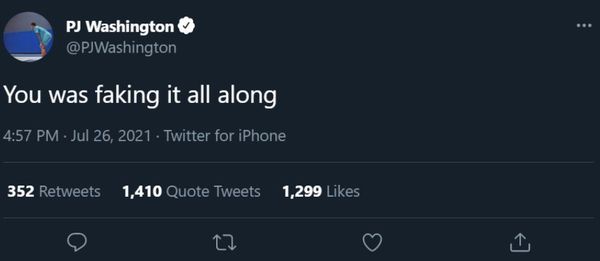 Here's how the rest of Twitter is reacting.
Aye see nah this is weird Brittany Renner was preying on pj Washington he was 18 playing at Kentucky she was 26 about to be 27 tf does a 27 year old have in common with somebody who just graduated high school 😭🤦🏿‍♂️ pic.twitter.com/AIcucuS8py

— mar_bizzy (@kamarblaze) July 26, 2021
Brittany Renner literally has a book about her sleeping with famous athletes and rappers and pj Washington thought she wanted to settle down with him when she's 7 years older than him pic.twitter.com/V81qdl9n4v

— jw (@iam_johnw2) July 27, 2021
PJ Washington and Brittany Renner. pic.twitter.com/pJsc9O1CCC

— Ole Gunnar Scamskjær (@Nigerianscamsss) July 27, 2021
Renner was at PJ Washington's Kentucky games like... pic.twitter.com/POfxAJJDRV

— The Bahamian who remains (@JustPhilly__) July 27, 2021
Pj Washington when he finally gets to retire from paying Brittany Renner child support pic.twitter.com/wBAL8QYIti

— Booka (@chop3r_) July 26, 2021
Poor guy.
Discuss