Producer Pete Rock has serious problems with this generation of rappers and would like to tell us all about them.
After blasting Young Dolph for promoting the trap lifestyle in his coke rap, the 46-year old had some words for everybody's favorite young whipping boy Lil Yachty.
Boat initially fired back aggressively.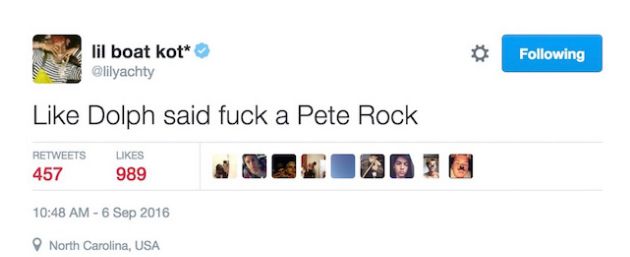 But then he thought better.
I ain't mad at @PeteRock ,that's his personal preference cause personally ion like his type of music ethier. So it's not fuck you. Bless u⛵️ — lil boat kot* (@lilyachty) September 6, 2016
Cause at the end of the day what we doin over here not gone stop growing because a old head don't like it. The world will continue to spin

— lil boat kot* (@lilyachty) September 6, 2016
Rock wasn't quite hearing Yachty's offer of inter-generational peace. Because in a long IG post last night he accused "mumble rappers" of not respecting the culture, and also making it easier for police to target black man by playing into stereotypes.
Do you agree with Pete Rock?
Discuss