During a recent interview, The Rock was asked if there was any celebrity he'd like to be a pet to.
not Dwayne "The Rock" Johnson saying he'll be Meg Thee Stallion dog when they asked him who celebrity dog he'll be . LMFAOOOOO I FEEL YOU MY BOY . pic.twitter.com/bzqsqerqHX

— Timbo 😎 (@TimboFionna) August 7, 2022
"Megan The Stallion," The Rock said.

"We don't have to talk about it," he added, when asked why.
Meg's boyfriend Pardison Fontaine did want to talk about it, dropping this comment to The Rock.

"All our dogs is named after #'s," Pardison typed. "Just teach yo wife to use seasoning ... you'll be aiight. Moana is the sh*t though."
However, after putting those words out there, Pardi thought the better and deleted.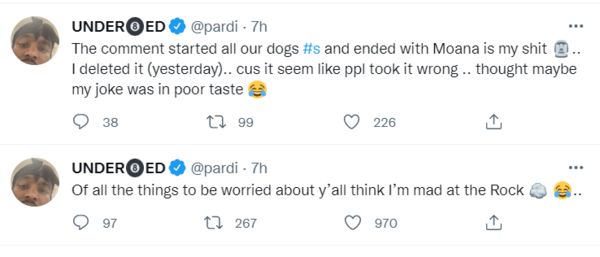 "Of all the things to be worried about y'all think I'm mad at the Rock," he explained. "I deleted it (yesterday) ... cus it seem like ppl took it wrong ... thought maybe me joke was in poor taste."
Do you think Pardi got shook?
Discuss