The Philadelphia 76ers are 0-11 and it's becoming increasingly hard to imagine how they will beat another NBA team. In fact, some are claiming the University of Kentucky's squad could beat them. (They most certainly couldn't. But maybe back in the days of college players going to school for four years such a thing would be possible.)
Anyway, the 76ers ineptitude is causing problems for Papa John's, one of its sponsors. You see, the chain had been running a promotion that after a Philly victory fans could score 50 percent off of a pizza.
After realizing the promotion wouldn't draw in any business if the 76ers never win, Papa John's changed its terms. Instead of a victory, the 76ers would just have to surpass a certain point total.
So that they set the point total at the logical 100, right?
Nope. That would also be dicey since the Sixers only average 88.6 points a game.
Now Philly just needs to score 90 for fans to get half off pizza.
Ouch. Getting trolled by one of your sponsors has gotta hurt.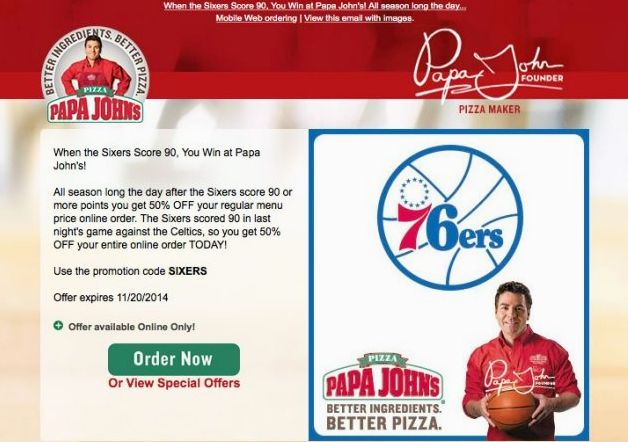 Discuss