Earlier this year, 2015 Freshman Class member OG Maco made a generous offer on Twitter. He would do a verse for $1000 as a "birthday gift" to his fans.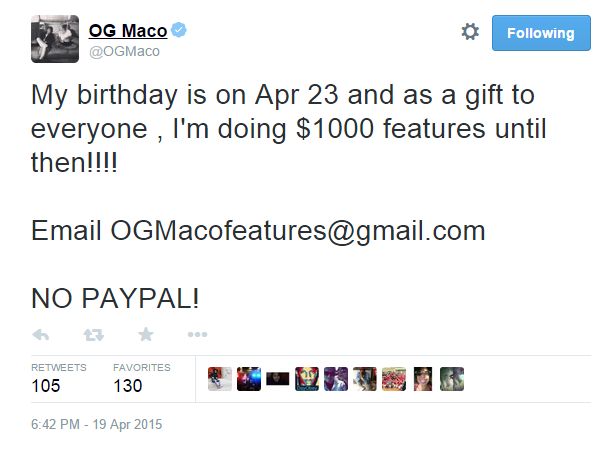 At least one person took him up. However, once producer TheRealCotton paid Maco all communication stopped. Cotton explained his plight in the Reddit post "Did anyone else purchase the $1000 feature from OG Maco?
I'm a producer who's collaborating with a rapper on a mixtape," TheRealCotton writes "After hearing about the opportunity, we jumped on the chance to get a verse from Maco for only a grand. I contacted the email he tweeted, had a short correspondence, and the money was sent through western union. This was about a month ago and I haven't heard anything since. I sent a follow up email asking when I could expect it to be done by and received no reply. Should I be worried or is this to be expected? Can anyone provide any other useful insight? Thanks.
From what we can gather from the discussion, TheRealCotton never had a proper written contract with Maco.

This could simply be a case of Maco being busy, and the ATLer fully intends on making good on his offer. (Or returning the money.)

Or it could be something else. Maco made somewhat of a name for himself by accusing Beyonce of stealing his video concept for her hit '7/11'. Let's hope he's not engaging in a much more serious kind of thievery.
Discuss