Today, Offset sent a threatening tweet to YBN Almighty Jay in defense of Rich The Kid.
Earlier this week, Rich and YBN were seen laughing and clowning on YBN's girlfriend Blac Chyna on Instagram. It was right after Rich's wife accused him of cheating with Chyna and claimed that the reality TV star's relationship with YBN isn't real.
But things between the Rich and YBN seemingly just changed.
Today, YBN — who's actually signed to Rich's Rich Forever label — posted a video and called Rich The Kid a bitch, among other things. This was after he said Rich invited him to fight and then sent him to the address of a shopping mall.
"Man, this nigga's a ho," said YBN of Rich. "This nigga scared. He don't want to fight. Don't play with me."
Soon after, Offset made the threat, which Rich The Kid co-signed.
DONT BEEF WIT @richthekid
IT COMES WITH A CHIMNEY 💨💨💨💨💨💨💨💨💨💨💨

— OFFSET (@OffsetYRN) March 22, 2018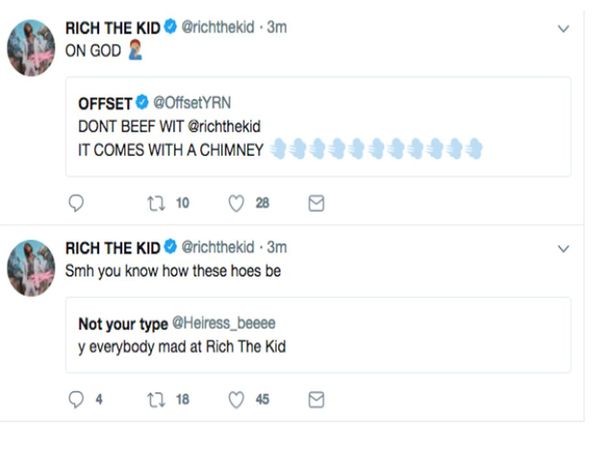 But here's the thing: Rich is currently promoting his new album The World is Yours, so some believe he's created the beef with YBN for promo.
What do you think? Is the beef real or fake?
Discuss