Cardi B caused a stir yesterday when she tweeted (and deleted) that she had been assaulted by an NYPD officer.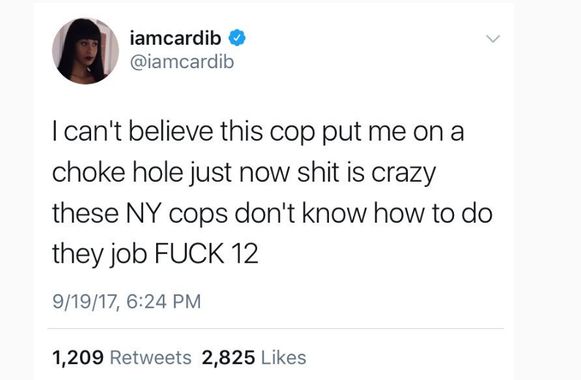 "I can't believe this cop put me on a choke hole just now shit is crazy these NY cops don't know how to do they job FUCK 12," Cardi wrote.
Neither Cardi nor the NYPD has commented since the Tweet was deleted. But Offset weighed in on what happened to his girl in an interview with TMZ.
"Two other people were supposed to have been fighting. But they didn't touch the dudes that were fighting they touched her, so I don't understand," Offset said. "You can't stop the police, the police kill people and get away with it."
TMZ then asked Offset if maybe the "Hip Hop cops" had something to do with it.
"Hip Hop police, oh yeah they real for sure," the Migo said.
But he wouldn't elaborate, deciding the less he said about the Hip Hop police the better.

[Related: Cardi B says cop roughed her up.]
Discuss