Amber Rose did her part to bring back the bush by posting a bottomless photo on social media.
#amberroseslutwalk https://t.co/F0U7TspSN4 pic.twitter.com/GTYySANBMv

— Amber Rose (@DaRealAmberRose) June 10, 2017
Then she asked social media to help in that effort.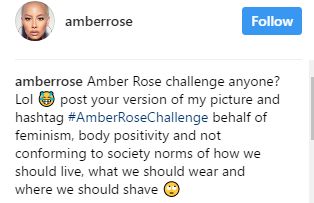 This led to some excitement.
Hands up all those waiting for the Amber Rose challenge #AmberRoseChallenge pic.twitter.com/ZzrtyYutoi

— Buzwebakhe (@Buzwebakhe) June 10, 2017
Dudes on Twitter and IG waiting on the Amber Rose challenge like pic.twitter.com/LyNSdNbqt2

— I Do Not care (@iamreal2017) June 10, 2017
Ladies are you gonna do this Amber Rose Challenge or not? pic.twitter.com/FBEfV7c2kf

— King TD (@TD_Maepa) June 10, 2017
Be careful what you wish for.
I love and hate the internet for these amber Rose challenge pics pic.twitter.com/MrWZd7XA6E

— Mr Cappuccino (@earlcraig06) June 11, 2017
We warned you.
Discuss