This morning, Nipsey Hussle co-signed a "joke" which said black women are disgracing black culture.
As you can probably guess, he spent the rest of the morning backtracking and apologizing to anyone he may have offended.
Check out all the Twitter action below. Then let us know if Nipsey needed to do all of that explaining, or if just saying it was a joke and he was sorry would have been good enough.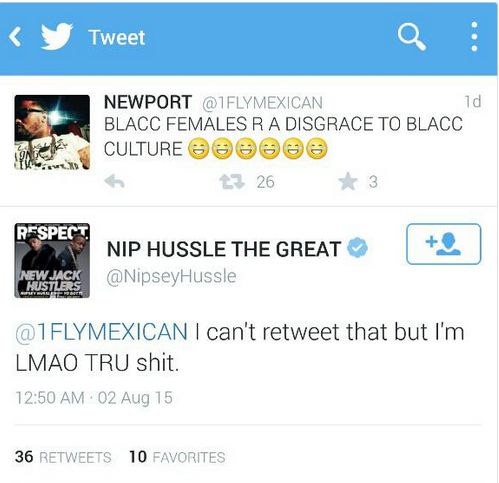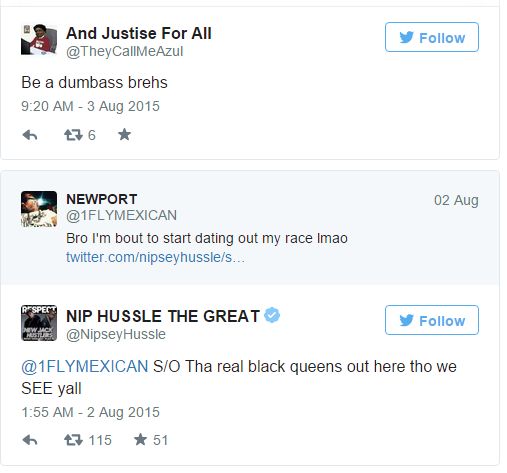 the comment that I responded to was a JOKE made in bad taste by someone in my area known as a lighthearted comedian that loves to laugh.

— NIP HUSSLE THE GREAT (@NipseyHussle) August 3, 2015
Wrong is wrong and I'll take responsibility and apologize to all my black women that were offended by it — NIP HUSSLE THE GREAT (@NipseyHussle) August 3, 2015
The comment I responded to was in pour taste PEROID but especially with the most recent issues happening to our women.

— NIP HUSSLE THE GREAT (@NipseyHussle) August 3, 2015
Never want to portray someone who thinks its cool to disrespect our mothers, sisters and more importantly our bacc bone As acceptable... — NIP HUSSLE THE GREAT (@NipseyHussle) August 3, 2015
in all honesty I thought the people reading it would know by the outrageous nature of the comment & the laughing emojis..that he was joking

— NIP HUSSLE THE GREAT (@NipseyHussle) August 3, 2015
I don't care about PR or any social media backlash so Ima say how I feel. What I do care about my peoples understanding of me.... — NIP HUSSLE THE GREAT (@NipseyHussle) August 3, 2015
If any black woman was ever mistreated or disrespected in my presence I stood up for her. Because I'm a man and that's our job.

— NIP HUSSLE THE GREAT (@NipseyHussle) August 3, 2015
Demonstration speaks louder than conversation and any woman that knows me can vouch that I'm more effective than symbolic in my attempt... — NIP HUSSLE THE GREAT (@NipseyHussle) August 3, 2015
To repair what went wrong with our "BLACK" people (men and women included)

— NIP HUSSLE THE GREAT (@NipseyHussle) August 3, 2015
When I get on Twitter I don't come here to preach or criticize I come here to socialize hence "social media" — NIP HUSSLE THE GREAT (@NipseyHussle) August 3, 2015
NIPSEY HUSSLE is a Self employed Independent black business that is owned and operated in the heart of South central LA.

— NIP HUSSLE THE GREAT (@NipseyHussle) August 3, 2015
I'm very familiar w any social economic racial or sexist issue that any man or woman of color in America can be a victim of... — NIP HUSSLE THE GREAT (@NipseyHussle) August 3, 2015
...industry

— NIP HUSSLE THE GREAT (@NipseyHussle) August 3, 2015
And anything I left out. Dick Gregory wrote a book called "NIGGER" His title could be offensive if taken outta context.. — NIP HUSSLE THE GREAT (@NipseyHussle) August 3, 2015
Dave chapele had a skit about "Clayton bigsby" if it wasn't comedy I would have been offended...this is why context is EVERYTHING

— NIP HUSSLE THE GREAT (@NipseyHussle) August 3, 2015
I stand by my apology to ALL WOMEN not because my intentions were malicious but because it was taken as a form of disrespect to my own women — NIP HUSSLE THE GREAT (@NipseyHussle) August 3, 2015
NEVER THE CASE

— NIP HUSSLE THE GREAT (@NipseyHussle) August 3, 2015
I'll accept being distasteful for laughing but I can't let @balleralert turn me against my women that have supported me based on semantics — NIP HUSSLE THE GREAT (@NipseyHussle) August 3, 2015
Like I said I don't give a fuc bout PR or Twitter backlash I'm only explaining myself for the WOMEN who were really offended.

— NIP HUSSLE THE GREAT (@NipseyHussle) August 3, 2015
Discuss