Nicki Minaj and Meek Mill are hosting dueling New Year's Eve events in Miami.
We already knew that Meek is getting 200K to party at the Dream nightclub in South Beach. But Nicki's price for being the main attraction at the downtown club E11even wasn't disclosed.
Looks like Nicki disclosed it: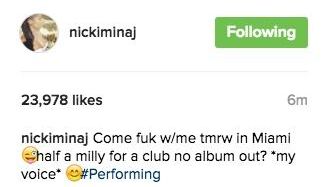 Now there is a catch. Nicki is replacing Jennifer Lopez at club E11even after J.Lo pulled out of the gig, allegedly so she could spend time with her new boy toy Drake.
So 500K is a relative bargain.
But it's still a lot more than Meek -- and she got it thanks to Drake.
Now they can all go count their money and laugh at the rest of us.
Discuss