Earlier this week, Birdman sat down for an interview with Angie Martinez.
The Cash Money boss dismissed all the controversy surrounding him, claiming that things with Lil Wayne are better than they appear, and that Drake and Nicki Minaj have no plans to leave the label because they love it there.
We all sort of laughed at this: It seemed like Birdman was spinning so fast he might actually start flying.
However, Minaj jumped on Twitter and co-singed at least some of Baby's words:
I just love the way Angie Martinez handles herself in interviews. She's the Hip Hop Oprah for real.

— NICKI MINAJ (@NICKIMINAJ) July 29, 2015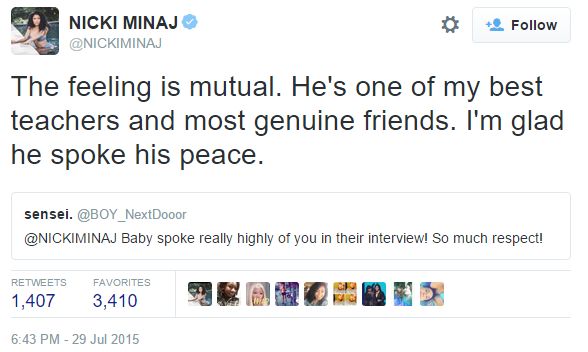 So there you go. Maybe Birdman's really going to track down the guys who shot up Wayne's bus, too.
Discuss