Nicki Minaj's Queen album was pushed back from June 15th to August 10th on an assumed lack of hype.
It may be pushed back again, but this time for something more specific.
In a deleted Tweet, Nicki announced that's she's having trouble clearing a sample from folk singer Tracey Chapman, and that could push the album back another week.
"So there's a record on #Queen that features 1of the greatest rappers of all time. Had no clue it sampled the legend #TracyChapman - do I keep my date & lose the record? Or do I lose the record & keep my date? 🤦🏽‍♀️ do we push #Queen back 1week? Ugh! I'm torn, y'all help," Nicki typed.
She then polled her fans on whether she should keep the record with the GOAT rapper on it, or keep the date.
Since I may have asked it wrong. 🤭🦄 vote. You guys can only imagine how much this means to me. It's such a perfect body of work 🎈love you. Long time.

— Chun-Li (@NICKIMINAJ) August 1, 2018
The voting has been very even on that one.
Nicki's fans have also been sliding into Chapman's DMs, trying to convince the "Fast Car" singer to clear the sample. So far no luck.
What do you think Nicki should do?
Update: It's been pushed back. Nicki posted this note on her Apple Music playlist today: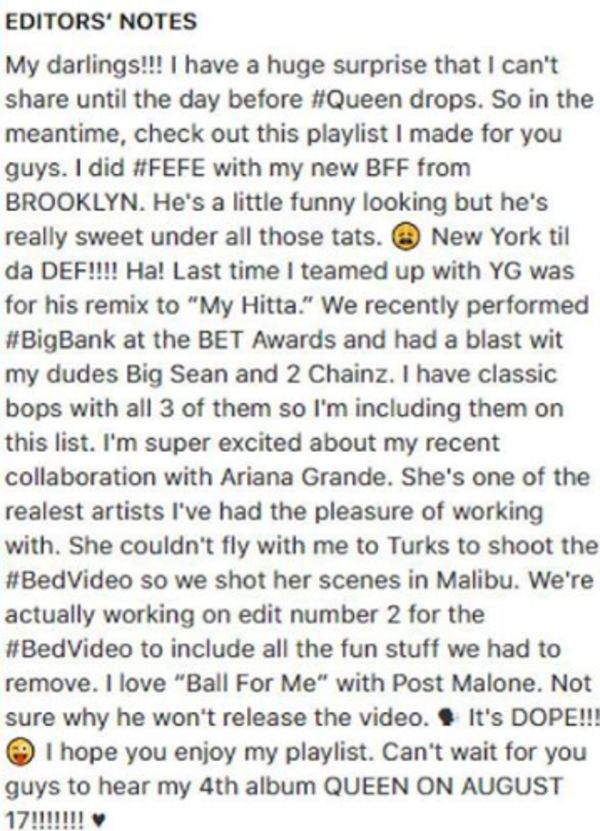 My darlings!!! I have a huge surprise that I can't share until the day before #Queen drops. So in the meantime, check out this playlist I made for you guys. I did #FEFE with my new BFF from BROOKLYN. He's a little funny looking but he's really sweet under all those tats. 😩 New York til da DEF!!!! Ha! Last time I teamed up with YG was for his remix to "My Hitta." We recently performed #BigBank at the BET Awards and had a blast wit my dudes Big Sean and 2 Chainz. I have classic bops with all 3 of them so I'm including them on this list. I'm super excited about my recent collaboration with Ariana Grande. She's one of the realest artists I've had the pleasure of working with. She couldn't fly with me to Turks to shoot the #BedVideo so we shot her scenes in Malibu. We're actually working on edit number 2 for the #BedVideo to include all the fun stuff we had to remove. I love "Ball For Me" with Post Malone. Not sure why he won't release the video. 🗣 It's DOPE!!! 😜 I hope you enjoy my playlist. Can't wait for you guys to hear my 4th album QUEEN ON AUGUST 17!!!!!!!"
Discuss