Nicki Minaj went pretty hard at writer Wanna Thompson after she gave an opinion on the rapper's music.
"You know how dope it would be if Nicki put out mature content?" wrote Thompson. "No silly shit. Just reflecting on past relationships, being a boss, hardships, etc. She's touching 40 soon, a new direction is needed."
Nicki then responded to the writer on DM, and the writer posted a screenshot of it.
"I'm 34. I'm touching 40? wrote Nicki, who later corrected herself and said she was actually 35. "And what does that have to do with my music? Eat a dick. You hating ass hoe. Got the nerve to have a Trini flag on your page. You must not have heard The Pinkprint or "Pills N Potions," "Bed of Lies," "Save Me," my recent feature with Alicia Keys ... Just say you jealous I'm rich, famous, intelligent, pretty and go. But wait, leave my balls. Tired of you sucking them."
Here is a tweet that made Nicki Minaj reply in her dms. The American superstar got touched by Wannasworld tweet and replied claiming she's hating and she even got death threats from nicki's fans. pic.twitter.com/bozTqlNJcc

— HIPHOP_CHART_WORLDWIDE (@HH_C_WW) July 1, 2018
Thompson also said that she received death threats from Nicki's fans and called the rapper out for her behavior.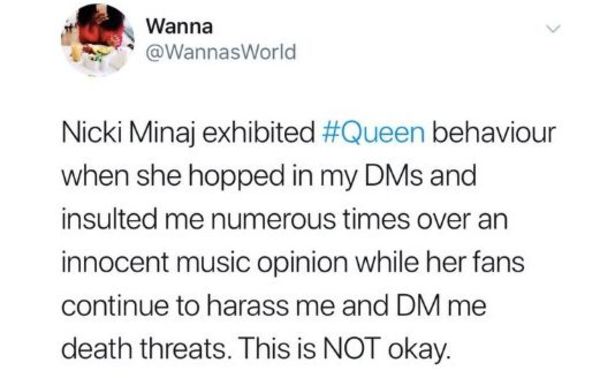 Why do you think a lot of people consider giving an opinion "hating" these days?
Discuss