Nicki Minaj was the victim of a swatting attempt in June, and she called out the media for not giving it more coverage.
Her post comes shortly after her husband Kenny Petty was put on house arrest for threatening Cardi B's husband Offset last week.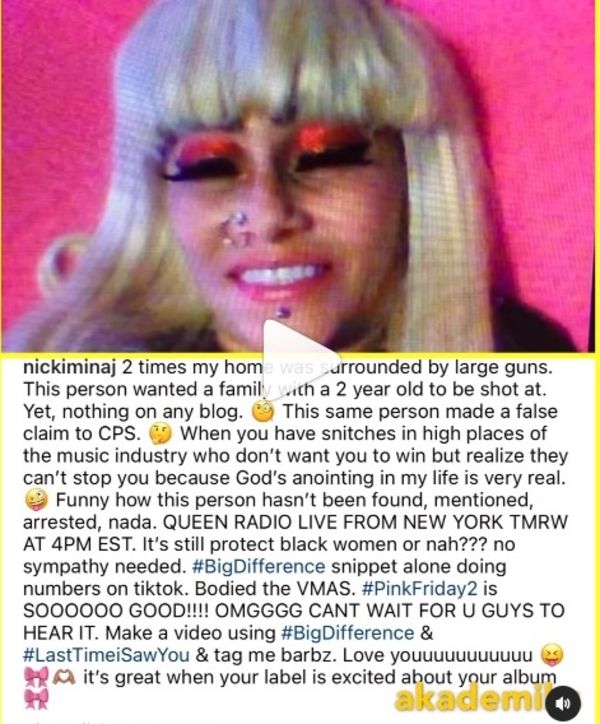 "2 times my home was surrounded by large guns. This person wanted a family with a 2 year old to be shot at. Yet, nothing on any blog," wrote Nicki. "This same person made a false claim to CPS. When you have snitches in high places of the music industry who don't want you to win but realize they can't stop you because God's anointing in my life is very real. Funny how this person hasn't been found, mentioned, arrested, nada ... Is it still protect black women or nah? No sympathy needed."
Nicki shared a call of someone calling the cops on her as well, and that person can be heard talking about a man having a shotgun and being drunk.
Plus, in a separate message, she suggested that Cardi is responsible for getting her husband put on house arrest.
Nicki Minaj hits out at music industry "snitches" covering for swatting culprit https://t.co/52WCdDsvQr pic.twitter.com/3WvLaJx9vu

— HipHopDX (@HipHopDX) September 21, 2023
"Can't call the cops every time you flop just saying," wrote Nicki. "Barbz, tmrw ima tell yall who to swat since swatting a home with a baby isn't a felony. Let's GOOOOOOOOO."
What do you think about her theory that Cardi snitched on her husband?
Discuss