Nicki Minaj plays a supporting role in Barbershop: The Next Cut, which opens today.
But don't expect her Draya character to have any on-screen sexy time.
During a Twitter Q&A to promote the film, a fan asked Nicki if her character was involved in any sex scenes.
I'm not allowed to do those. https://t.co/RMwZXY3UTO

— NICKI MINAJ (@NICKIMINAJ) April 15, 2016
Another another fan reasoned this was because Meek didn't allow her to do them, and Nicki seemed to confirm that.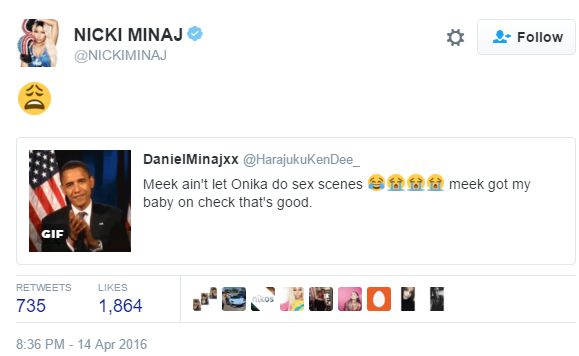 When we last heard from Nicki, she refused to acknowledge that she was dating Meek, calling him "a boy who likes me. That's all."
But he clearly has some say in their relationship.
Discuss