During her fight about The Grammys and what is rap and what is pop, Nicki Minaj called Latto a "Karen".
Nicki was angry that Latto didn't defend her when Nicki argued that if her track "Super Freaky Girl" was deemed by the Grammys pop, not rap, then Latto's track "Big Energy" should also be considered pop.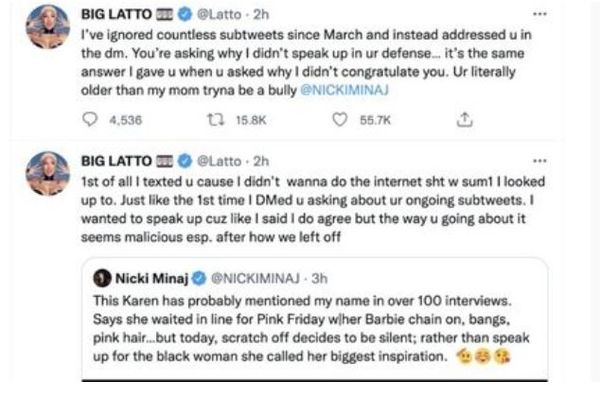 "This Karen has probably mentioned my name in over 100 interviews. Says she waited in line for Pink Friday w/her Barbie chain on, bangs, pink hair ... but today, scratch off decides to be silent; rather than speak up for the black woman she called her biggest inspiration," Nicki typed about Latto.
"Karen" is a term usually used to describe a white woman. Latto was formerly named Mulatto.
Nicki has explained why she called Latto a "Karen."
Being a Karen is more about being manipulative and being passive aggressive." Nicki said "This is a great example if you think about it. A person knows that when that white police officer comes, he gone arrest that Back man because there's already a stereotype of the Black man. So, she can easily pretend to be innocent and sweet in front of the cop because she knows that cop don't like that Black man either."
What do you think about that?
Discuss