Over the weekend, Saweetie jumped on Twitter and requested children.
I want some babies.

— icy bae ❄️ (@Saweetie) November 6, 2021
"I want some babies," she Tweeted.
While her ex Quavo obviously wasn't up for that task, notorious baby maker Nick Cannon is ready to populate her uterus and used emojis to demonstrate his readiness.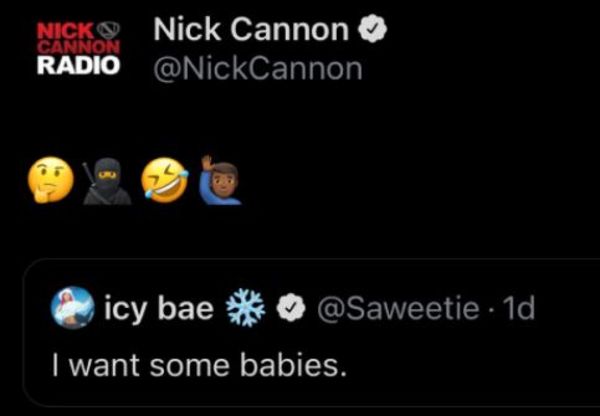 Nick Cannon currently has seven children with various baby mamas, with his last few being born extremely close together.
Over the summer, he pushed back on calls for him to slow down his baby making.
"It's just love. It's the aura. It's the essence. If God willing, if God sees it that way, then I'ma keep going. [I'm] going to start my own sperm bank,"Cannon explained.
Discuss