Nick Cannon is often criticized for his crazy fashion choices, not so much for what he says.
But that changed after comments he made during an interview with Professor Griff that have just hit the Internet. In them, he says disparaging things about white people and Jewish people.
Nick Cannon says white people are "a little less," "closer to animals," "the true savages," "acting out of a deficiency so the only way they can act is evil." When does he get canceled? pic.twitter.com/vK3TBDW9i8

— Adam Ford (@Adam4d) July 14, 2020
"Our melanin is so powerful and it connects us in a way that the reason why [white people] fear us is because of the lack that they have of it," he said. "When you have a person that has the lack of pigment, the lack of melanin, they know that they will be annihilated. So, therefore, however they got the power, they have the lack of compassion — melanin comes with compassion, melanin comes with soul."

"The people that don't have [melanin] are a little less," Cannon went on. "They may not have had the compassion when they were sent to the mountains of Caucasus when they didn't have the power of the sun. The sun then started to deteriorate them so then, they're acting out of fear, they're acting out of low self-esteem, they're acting out of a deficiency. So, therefore, the only way that they can act is evil. They have to rob, steal, rape, kill in order to survive."
In the Interview, he also advanced conspiracy theories about Jewish people.
Cannon was ripped for his comments afterward.
I honestly cannot believe that people think this is ok. I don't care what the context is. I would never make that claim about any race...that they are barbaric or evil based on race. Disgusting.

— helen j (@gmalmom_helen) July 14, 2020
God, this generation is doomed. pic.twitter.com/ZJNlwujzz6

— Letty S. Szalkari (@Letty41393970) July 14, 2020
I remember the first time I got high, too.

— Dangerous Liberty (@DangerousLiber1) July 14, 2020
Cannon has taken responsibility for the anti-Semitic part of the interview.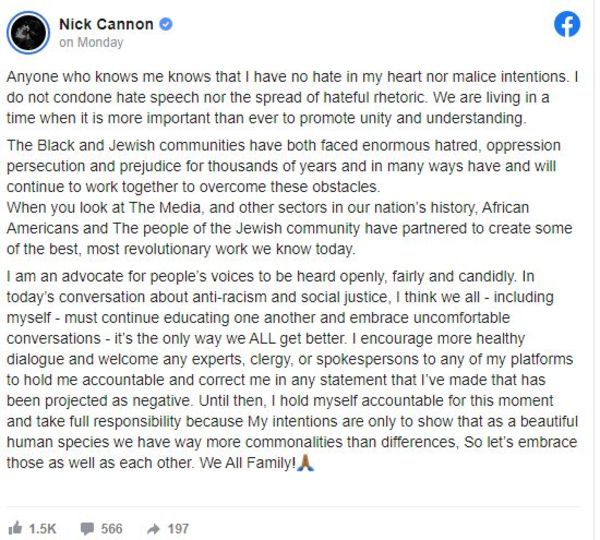 Update: Cannon has been fired from Wild 'N Out by ViacomCBS
ViacomCBS condemns bigotry of any kind and we categorically denounce all forms of anti-Semitism.

We have spoken with Nick Cannon about an episode of his podcast "Cannon's Class" on YouTube, which promoted hateful speech and spread anti-Semitic conspiracy theories.

While we support ongoing education and dialogue in the fight against bigotry, we are deeply troubled that Nick has failed to acknowledge or apologize for perpetuating anti-Semitism, and we are terminating our relationship with him.

We are committed to doing better in our response to incidents of anti-Semitism, racism, and bigotry. ViacomCBS will have further announcements on our efforts to combat hate of all kinds.
Discuss