Last week, NBA YoungBoy was caught on tape encouraging his stans to shade NBA YoungBoy.
"That YB better sh*t that sh*t that really did it cause you see that sh*t everywhere places that don't even have nothing to do with YB, they just YB better YB better. We got to put Yak better, Yak better, Yak better. Yak everywhere. Yak better ... Yak better or Yak realer or Yak the GOAT or Yak created YB. I don't know if you want to put Yak better cause that's like copying them boys. We could put Yak realer," Kodak said in a pep talk to his social media shooters.
You don't want to get in a stan war with NBA YoungBoy, who's a modern-day Eminem when it comes to a dedicated fan base.
Yak jumped on Twitter last night and admitted he's been feeling the heat from the YoungBoy army. So much so, that he's leaving social.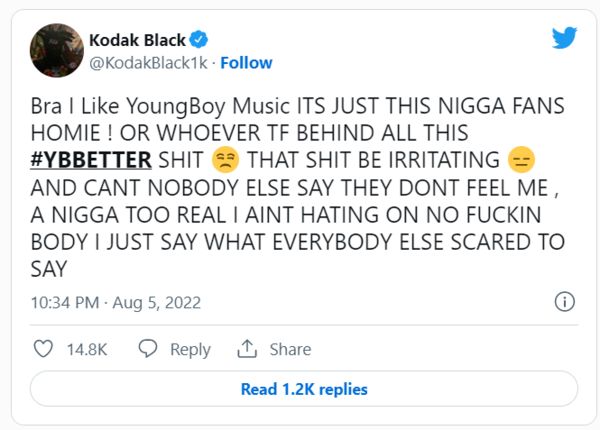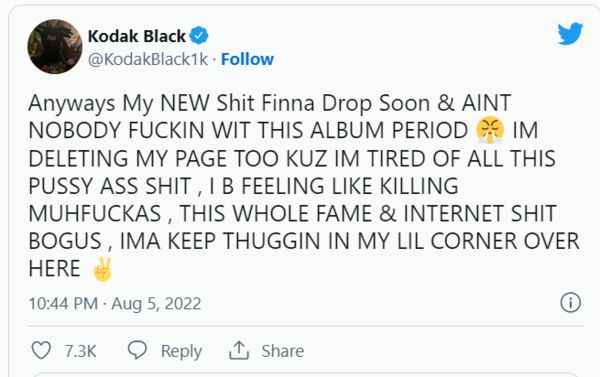 "Bra I Like YoungBoy Music ITS JUST THIS N*GGA FANS HOMIE ! OR WHOEVER TF BEHIND ALL THIS #YBBETTER SH*T THAT SH*T BE IRRITATING AND CANT NOBODY ELSE SAY THEY DONT FEEL ME , A N*GGA TOO REAL I AINT HATING ON NO F*CKIN BODY I JUST SAY WHAT EVERYBODY ELSE SCARED TO SAY," Kodak typed. "N*gga Can't Even Post A Cheeseburger Without They Ass Under A Post Talm Bout "YB Post His Burger Better" I Love It That's Kool But The Sh*t B Irritating Af Homie , Y'all Stay On Dat N*gga Page Wit Dat Sh*t. Anyways My NEW Sh*t Finna Drop Soon & AINT NOBODY F*CKIN WIT THIS ALBUM PERIOD IM DELETING MY PAGE TOO KUZ IM TIRED OF ALL THIS PUSSY ASS SH*T , I B FEELING LIKE KILLING MUHFUCKAS , THIS WHOLE FAME & INTERNET SH*T BOGUS , IMA KEEP THUGGIN IN MY LIL CORNER OVER HERE."
Discuss