Mark Martin is a 56-year old Hall of Fame NASCAR driver.
He also has a big problem with Drake. But it might not be what you think.
This is Martin's Twitter bio: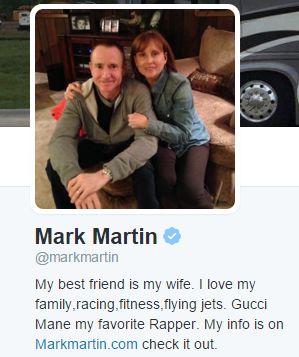 And this was what happened today when somebody suggested Martin get behind the whole Drake thing, perhaps because his boy Gucci remains incarcerated.

Martin was a little more generous last week when somebody asked him about Lil Boosie.
Love Boosie. RT @themdfremouw18: @markmartin you listen to Boosie?

— Mark Martin (@markmartin) November 4, 2015
Between Martin and Dale Earnhardt Jr., NASCAR may be more rap friendly than one would expect.
Discuss