The beef between Jay-Z and Nas that took place in 2001 has gone down in rap history as has their respective diss songs, "Takeover" and "Ether."
Nas spoke with FELON Magazine at the time of the beef and claimed that Jay once told him that Tupac Shakur and DMX weren't true lyricists. Esco also said Jay claimed to be better than The Notorious B.I.G.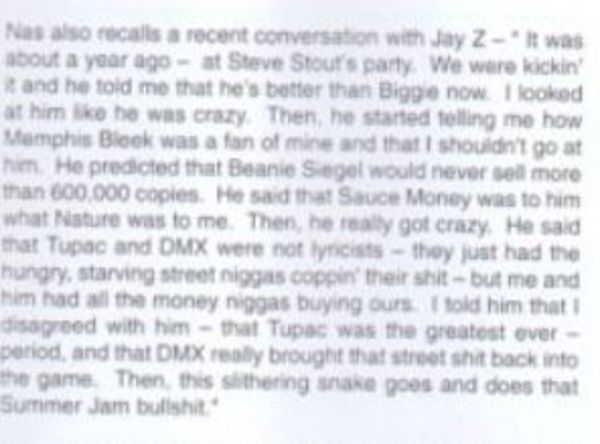 "We were kickin' it and he told me that he's better than Biggie now," Nas said in the interview, which resurfaced earlier this week. "I looked at him like he was crazy. Then he started telling me Memphis Bleek was a fan and that I shouldn't go at him. He predicted that Beanie Sigel would never sell more than 600,000 copies. He said that Sauce Money was to him what Nature was to me."

"Then he really got crazy," Nas continued. "He said that Tupac and DMX were not lyricists — they just had the hungry, starving street n*ggas coppin' their sh*t, but me and him had all the money n*ggas buying ours. I told him that I disagreed with him, that Tupac was the greatest ever, period and that DMX really brought that street sh*t back into the game."
Do you think Hov said all of that?
Discuss