Some folks, like 50 Cent, were uncomfortable with the way Michael Rubin was hugging on rappers like Lil Baby and Meek Mill during the white party Rubin threw in the Hamptons over the Fourth Of July holiday.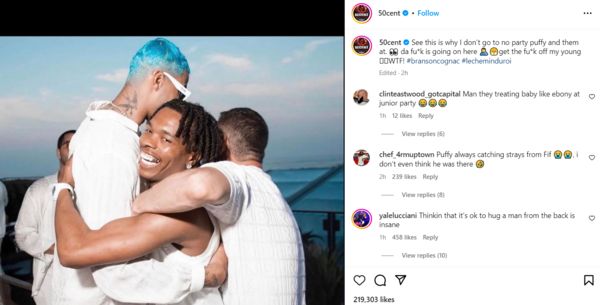 "See this is why I don't go to no party puffy and them at. 👀 da fu*k is going on here 🤦‍♂️😤get the fu*k off my young 🥷🏾WTF," 50 Cent captioned a photo of Lil Baby getting hugged from behind by Rubin and from in front by a blue haired man.
Others, like Boosie Badazz, believe the photos don't prove anything.
Whatever is going on, Rubin is not going to stop. He made this clear to both Baby and Meek when he had them trapped on a private jet ride.
Michael Rubin Promises Lil Baby And Meek Mill Some More Drunken Hugs While On The Private Jet.😂 pic.twitter.com/hIlIGBdbMJ

— Poetik Flakko (@FlakkoPoetik) July 9, 2023
Meek Mill reacts to the viral picture of Lil Baby & Michael Rubin pic.twitter.com/70KNHTbArE

— 2Cool2Blog (@2Cool2Blog) July 9, 2023
"You're going to be getting another drunken hug from me tonight," Rubin threatened. "I don't care what anyone else says."
What do you think about that?
Discuss