Harlem rapper Melii's deubt album phAses drops today.
For a while, it looked like she was going to sign with Meek Mill. But that didn't happen, and she ended up under Tory Lanez's One Umbrella imprint.
When Tory celebrated Melii's debut on Instagram, Meek got salty.

"This a corny ass move on both y'all end," Meek typed under Tory's post.
So Melii explained that she ditched Meek because she realized he was just trying to smash.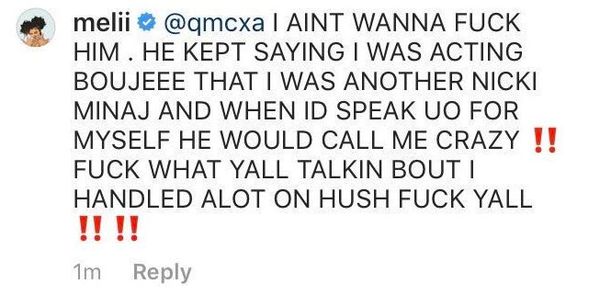 Oh uh. They're about to whip out that #SurvivingMeekMill hashtag:
You should also do surviving Meek mill since he out here emotionally abusing women!
Melii just exposed him! pic.twitter.com/ZnJR1oqPtx

— Nyla (@nickidefender) March 28, 2019
Discuss