YNW Melly's trial for two counts of first-degree murder starts today.
The 22-year old has been locked up since February of 2019 for killing his crew members YNW Juvy and YNW Sakchaser and faces life imprisonment or the death penalty if convicted.
The evidence against Melly seems substantial.
The State of Florida has 66 pages of DNA evidence that put Melly at the crime scene and also has a lot of damning info from Melly's phone.
Nevertheless, Meek Mill is on team Free Melly.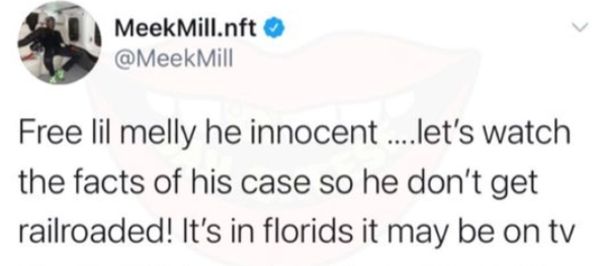 "Free lil melly he innocent ... let's watch the facts of his case so he don't get railroaded! It's in Florida it may be on tv," Meek typed.
Meek -- who has his own legitimate issues with the criminal justice system -- is correct to point out that the facts of murder trial should be out in the open. But we doubt he'd want to life next door to crazy Melvin if he was somehow freed.
Discuss