They call Meek Mill Twitter Fingers.
Now he wants a piece of the Twitter action.
Meek jumped on Twitter yesterday and asked Elon Musk to let him in on Musk's purchase of the social media app.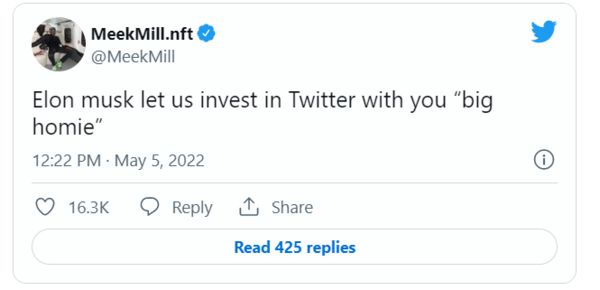 "Elon musk let us invest in Twitter with you "big homie," Meek typed.
Musk has been looking for outside investors to help fund his yet-to-be-closed $44 billion dollar purchase of Twitter and has so far secured $7 billion in outside capital.
As you can see, the smallest investor put in $5 million, with most putting up a lot more than that.
Elon Musk has secured more than $7 billion from investors for his acquisition of Twitter.

Investors include:
• Binance
• Fidelity
• Sequoia Capital
• Andreessen Horowitz

Oracle's Larry Ellison wrote a $1 billion check, which was the largest commitment by any investor. pic.twitter.com/uK2Dgh0z0o

— Joe Pompliano (@JoePompliano) May 5, 2022
So if Meek wants in he's going to have to stretch his bank account.
Discuss