Like many, Meek Mill responded to the shootings of Benny the Butcher and Boosie Badazz, who were both shot in Texas over the weekend.
Meek wished both men well, then addressed the violence in his hometown of Philadelphia. The DreamChaser said he'd get record deals for the unsigned rappers in Philly since he feels his town has plenty of talent.
I'll get all the main big artist in philly a deal if they put them bodies behind them and squash them beefs ...I hear about ....got some hot young bulls from my city but they all beefing!

— Meek Mill (@MeekMill) November 16, 2020
And that's just a idea but I'll push thru with my city if y'all make it thing! It's like 5 clicks that's talented but they deep in! And get they most attention when they beefing!

— Meek Mill (@MeekMill) November 16, 2020
And when I say bodies I mean friends or family you lost!

— Meek Mill (@MeekMill) November 16, 2020
His offer didn't go over well with local rapper Poundside Pop, who jumped on social and seemed to warn Meek about coming to the city's northside, which is where Meek grew up, while referencing another Tweet Meek made about picking sides.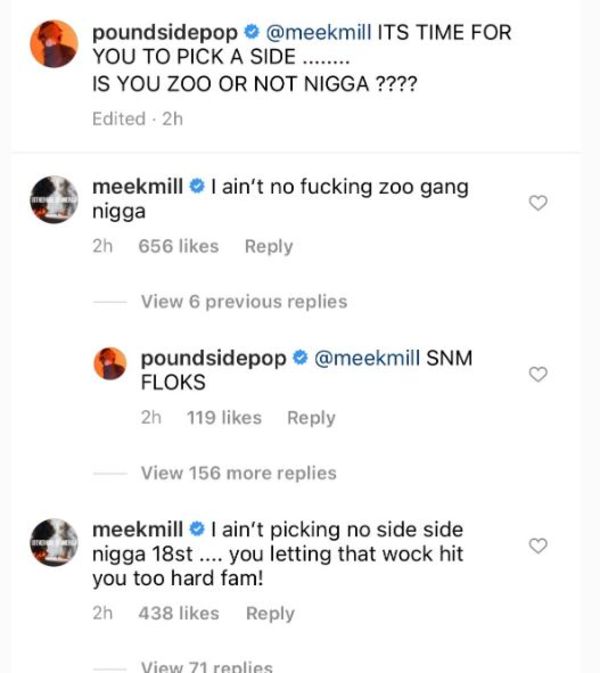 Poundside Pop pressing Meek after saying he from 18st but saying he from Berks in his raps pic.twitter.com/UgCSMRLxcl

— GlockTopickz (@Glock_Topickz) November 16, 2020
PoundSide Pop and His Homeboys says Meek Mill is ban from North Philadelphia , because he's rocking with there opps . pic.twitter.com/VleE7Y5Jk9

— Best's Point Of View TV (@povofbest1) November 16, 2020
Twitter had some fun with Meek's attempt to make the peace and Poundside Pop's indignant response.
Meek Mill: "Philly We Gotta Put The Guns Down"

Philly: pic.twitter.com/X3bEjMvDDr

— SFTY+ (@sftyplus) November 16, 2020
Meek Mill: Let's stop the violence guys..

Poundside: pic.twitter.com/8yjx4LbYod

— D-Paperz (@dpaperz23) November 16, 2020
Meek is like one of the most useless activists ever it's fucken hilarious. Dude goes on tv on some of the biggest platforms talking about prison reform etc. the. Next thing he's online poking his nose into street shit.

— brody (@skippy9669) November 16, 2020
Y'all really mad at meek mill for tryna help y'all street niggas out...? it screams IGNORANCE.

— my name is yuki. (@vibesswyuki) November 16, 2020
Discuss