Kodak Black isn't the only rapper pissed about what went down at the BET Awards.
Yak was angry that they gave Latto best song over him, attributing the decision to her being a woman.
Meek also thinks BET took the woman empowerment thing too far.
He believes BET let his baby mama Milan Harris spit bars just for the clout.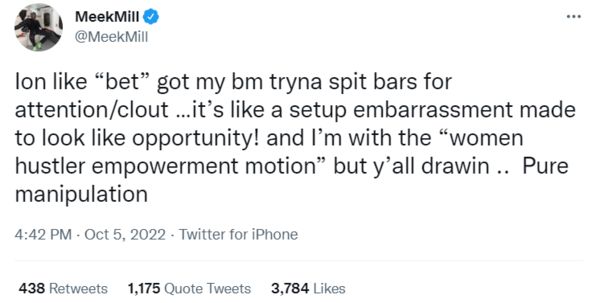 "Ion like "bet" got my bm tryna spit bars for attention/clout …it's like a setup embarrassment made to look like opportunity! and I'm with the "women hustler empowerment motion" but y'all drawin .. Pure manipulation," he typed.
Here's Milano doing her thing for the cable TV audience.
Milano didn't do bad on her cypher rap. Let's set the record straight 🫶🏽 pic.twitter.com/Tpwj94u7z6

— Tasi 💞 (@eastsidetasia) October 5, 2022
Was she that bad?
Discuss