Meek Mill can't quit Tekashi 6ix9ine.
He started going after the troll rapper late last week, right before Tekashi set YouTube and Instagram records in his return to music after prison.
Of course, 6ix9ine trolled Meek in response and Meek apologized for getting so emotional.
Mill got emo again late last night, making big threats against Snitch9, and then deleted his most inflammatory Tweet.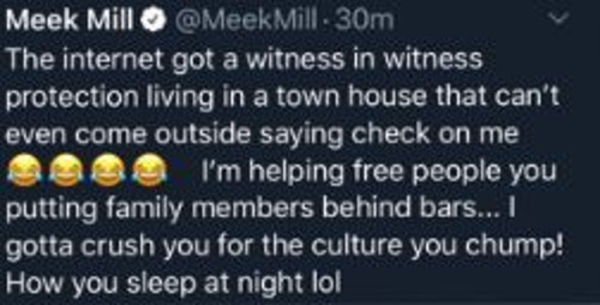 The internet got a witness in witness protection living in a town house that can't even come outside saying check on me. I'm helping free people you putting family members behind bars. I gotta crush you for the culture you chump! How you sleep at night lol," Meek wrote in a Tweet that is no longer up.
Here are his Tweets that are still up:
We control the culture lol and ima set a example lol.

— Meek Mill (@MeekMill) May 11, 2020
Nip got killed by one of them I feel a way at heart nobody can change that! Go tuck in!

— Meek Mill (@MeekMill) May 11, 2020
Do you think Meek can make an example out of 6ix9ine are does he need to give those Twitter fingers a rest?
Discuss