Master P has done some really good things away from the mic.
Maybe he should stay away. Over the weekend, Master P got the fellas back together for a No Limit Reunion show in St. Louis.
Here's what the local paper said about what came next during the sold-out show at the Chaifetz Arena
"In what could've been one of the best hip-hop concerts of 2019 and beyond, No Limit Soldiers – led by Master P, Mia X, Mystikal, Silkk the Shocker and Fiend – delivered a lackluster showcase at best before a sold-out crowd at Chaifetz Arena Saturday night. As veteran artists in the music industry for twenty or more years, the southern rappers were a repeated disappointment to the crowd thanks to a lineup of performances void of organization or preparation. Fans voiced their disgust by booing and bailing out early."
Social media was full of reports to that effect.
When I say that Master P No Limit reunion concert in St Louis was the wackest concert in this City's history they got booed off the stage lhh smh two hours late performed 30 minutes worth of songs we want our money back dirty

— Kenny Ross (@Kenny_Ross_314) November 5, 2019
I am so throughly disappointed at what presented to St. Louis last night. Master P was barely on stage, most of the songs were performed lip syncing. Smh. They have alot of die hard no limit fans in St. Louis and the surrounding areas.....so to give us such a poor caliber of show pic.twitter.com/kaaEQ4bGNQ

— Mr.LewTweets (@MLewtweets) November 3, 2019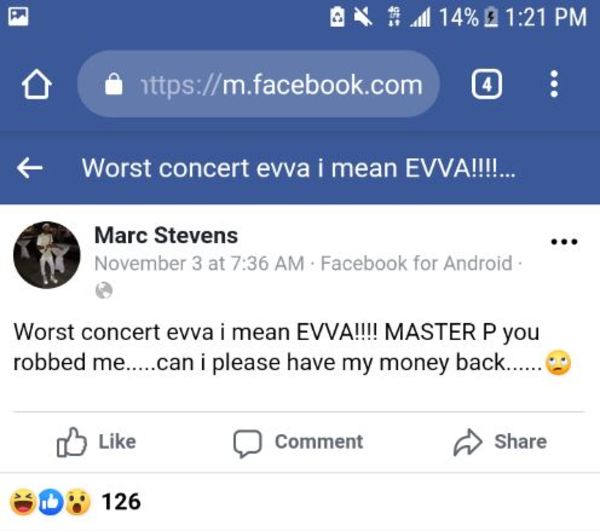 Here's some video of the angry crowd seemingly chasing P from the stage after he asks if they want their money back:
Discuss