Convicted felon and collector of rare Hip Hop albums Martin Shkreli is going to jail for a while.
He had been out on a $5 million bond after being convicted of two counts of securities fraud and a single count of conspiracy last month.
However, his bail was revoked yesterday by Federal Judge Kiyo Matsumoto because Shkreli used Facebook to offer a bizarre $5,000 bounty on a strain of Hillary Clinton's hair.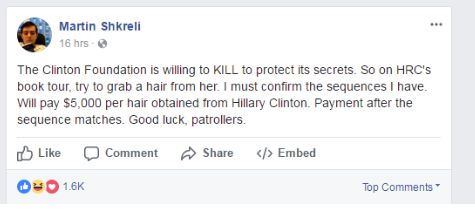 Shkreli tried to sway the judge by apologizing for his "poor judgment" and "awkward attempt at humor." He also claimed he didn't believe any of his 70,000 Facebook friends and followers would take the bounty seriously.
But Matsumoto disagreed.
"He is soliciting an assault on another person for $5,000," Matsumoto said, and added that he couldn't know if his followers would know that he was just joking. "The fact that he continues to remain unaware ... of the inappropriateness of his actions or words demonstrates to me he may be an ongoing danger or risk to the community,"
Skreli will remain in jail until January 16th, when he will be sentenced on the fraud and conspiracy charges. He could face up to 20 years in prison.
"It's unfortunate. It was unfortunately avoidable," Shkreli's lawyer Benjamin Brafman said after the decision to revoke his client's bail yesterday. "But the judge has ruled and she's the judge."
[Related: Martin Shkreli is selling Wu-Tang's Once Upon A Time In Shaolin On eBay.]
Discuss