Florida Senator Marco Rubio tried to calm a worried nation by getting on Twitter and assuring Americans there will be no martial law, which is the imposition of direct military control of normal civilian functions by a government, especially in response to a temporary emergency such as invasion or major disaster, or in an occupied territory
Unfortunately, he pulled a Donald Trump and spelled it "marshall law."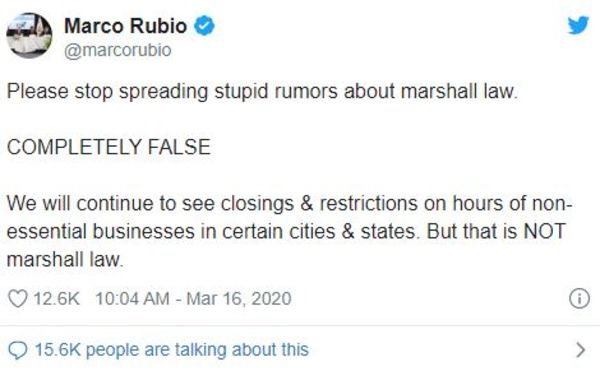 If you think Marshall Law sounds like an Eminem album, you're not alone.
Saw "Marshall law" trending n thought Eminem had dropped ANOTHER surprise album https://t.co/t1relaVhV1

— uǝʌǝʇs (@robbersxsteven) March 16, 2020
Isn't Marshall Law an Eminem album?

— Mina Markham 🧁 (@MinaMarkham) March 16, 2020
Shady has dropped an album a year for the last three years. So if we are all still alive in December expect Marshall Law on a streaming service near you.
Update: Eminem says it's not happening:
Sorry guys... Marshall Law: not a thing. https://t.co/YKm1b5UGBE

— Marshall Mathers (@Eminem) March 17, 2020
Discuss