Macklemore has once again jumped into the hot button issues of white privilege with the track 'White Privilege II'.
In it, Mack raps:
You've exploited and stolen the music, the moment The magic, the passion, the fashion, you toy with The culture was never yours to make better You're Miley, you're Elvis, you're Iggy Azalea Fake and so plastic, you've heisted the magic You've taken the drums and the accent you rapped in You're branded "hip-hop", it's so fascist and backwards That Grandmaster Flash'd go slap it, you bastard
In this verse, Macklemore seems to be criticizing his own position in Hip Hop and black culture. But Iggy Azalea didn't much appreciate him including her name in his self-loathing.
@lggysBae he shouldnt have spent the last 3 yrs having friendly convos and taking pictures together at events etc if those were his feelings

— IGGY AZALEA (@IGGYAZALEA) January 22, 2016
Oh no! The king and queen are fighting :(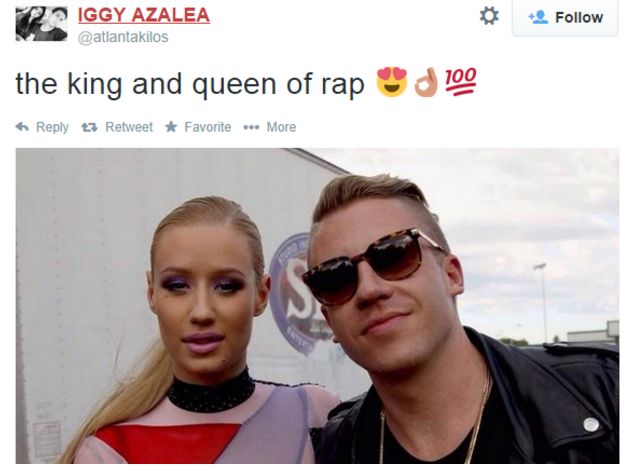 Check out the Macklemore & Ryan Lewis featuring Jamila Woods track 'White Privilege.'
Update: Talib Kweli has weighed in, blasting Iggy.
The fact @iggyazalea thinks Macklemore song was a diss to her, instead of actually listening, is proof of her privilege. Fuck Iggy Azalea. — Talib Kweli Greene (@TalibKweli) January 22, 2016
True story. I actually rooted for Iggy when she first came out. But she's disrespected hip hop culture one too many times.

— Talib Kweli Greene (@TalibKweli) January 22, 2016
(Stole from Kendrick, tweets "nigga" dissed qtip, dismisses privilege) RT @ChellaChicago: what did she do to disrespect the culture ? — Talib Kweli Greene (@TalibKweli) January 22, 2016
Discuss