Machine Gun Kelly kept things honest on Hot 97's Ebro In The Morning by demanding everyone do Hennessy shots at the beginning of the interview.
As the appearance progressed, they got to talking about social media. MGK bluntly expressed the belief that he got blackballed for this 2012 tweet about Eminem's teenage daughter Hailey, who was about 16 at the time.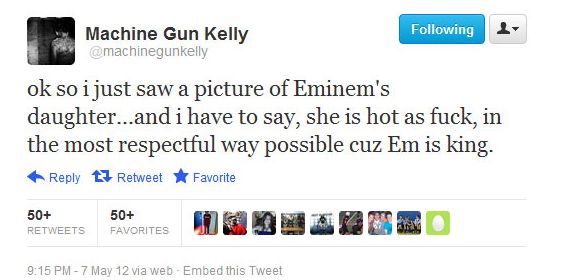 "Is there a 15 year old age gap, and I'm a creep for that. I was 21, Dawg ..." Kelly said, getting emotional. "Certain people took it and ran with it and hyped it up ... Certain people won't even listen or review [my album]. Certain places, you won't even hear Machine Gun Kelly. A friend of mine said it best to me, yesterday.  He said, 'Why do you care? You came into the industry blackballed. You already came in with everyone hating you.' I'm not stressing it man, because I'm not wrong."
The Hailey talk comes at about the 35 minute mark. Do you think it's possible MGK's career suffered because of the fairly innocent tweet?
Discuss