Last month, Machine Gun Kelly got on Ebro in The Morning and claimed he had been "blackballed" from parts of the industry because of this 2012 tweet about Eminem's teenage daughter Hailey, who was about 16 at the time.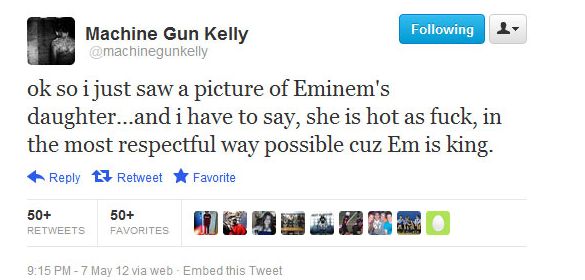 He didn't provide specifics. Now, in an interview with The Breakfast Club, he has.
"I don't get why I'm not on Shade 45 [Eminem's Sirius Hip Hop channel]. I'm a young man from the Midwest trying to fucking speak for a bunch of degenerates just like a certain other person was," said MGK.
He added that because of Eminem, Fadar emailed him saying he'd never appear in the publication. He also said that Rolling Stone refused to review General Admission and the Coachella festival wouldn't let him on the bill.
Discuss