Lord Jamar is a rapper and actor. But he's most famous in these (and most) parts for being interviewed on VladTV.
That's all coming to an end.
Jamar has announced that he and Godfrey -- another frequent Vlad guest -- will no longer be conversing with DJ Vlad because of comments Vlad made about Louis Farrakhan.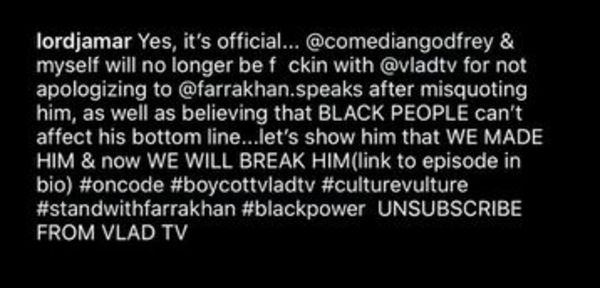 "Yes, it's official ... @coemdiagodgrey & myself will no longer be f*cking with @Vladtv for not apologizing to @farrakhan.speaks after misquoting him, as as believing that BLACK PEOPLE can't affect his bottom line ... let's show him that WE MADE HIM & now WE WILL BREAK HIM(link to episode in bio) #oncode #boycottvladtv #culturevulture #standwithfarrakhan #blackpower UNSUBSCRIBE FROM VLAD TV."
Mysonne is also down with the boycott:
Do you think this will work?
Discuss