Lizzo has been tearing up the charts as of late, but it seems some people don't consider her a rapper.
Earlier this morning, she took to Twitter to air out the people who don't think she's a rapper, and for some reason, included Swae Lee and Future in her message to make a point.
Sometimes I get pissed that there are people who call future & swae lee rappers and still question whether or not I belong in the rap conversation..., But then I remember I have the #4 song in the country, laugh, go back to my dream job and log off."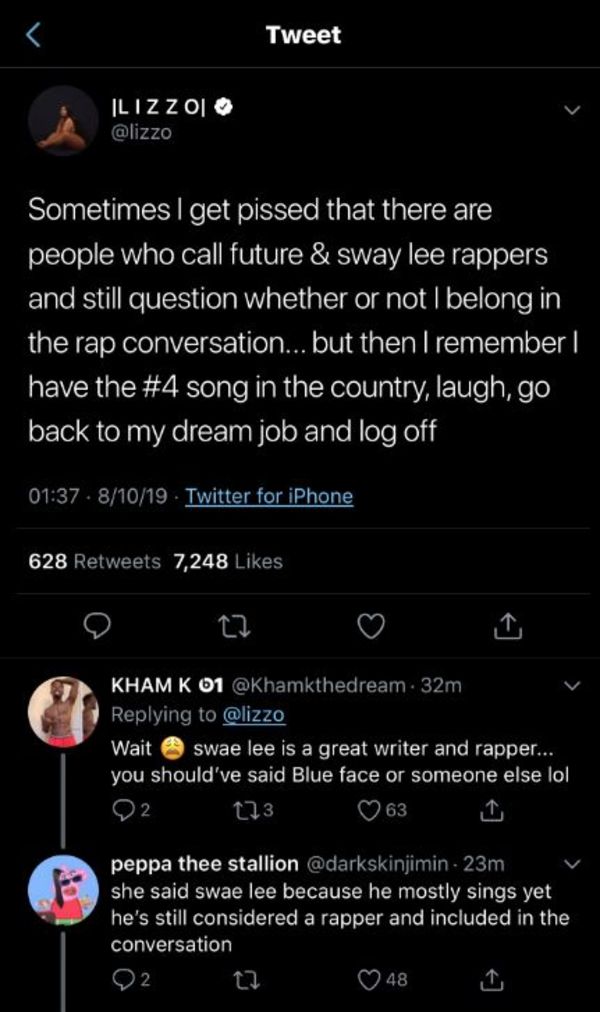 We could think of quite a few rappers she could have used over Swae and Future, but she decided to throw them under the bus.
Well, it didn't last long, as Twitter criticized her for her tweet, which she quickly deleted and then offered an apology (sort of).
I forgot that the internet is not the place for my emotions anymore 🤦🏾‍♀️ I love everybody goodnight

— |L I Z Z O| (@lizzo) August 10, 2019
I LOVE future & swae bruhhhhhh... the point went straight over y'alls heads...I'm just saying we all share a similar rap sing style...

😭😭😭😭😭😭😆

Stream 'Sunflower' by Swae Lee

Stream 'The Wizrd' by Future

— |L I Z Z O| (@lizzo) August 10, 2019
Do you consider Lizzo a rapper?
Discuss