Despite the two year legal back-and-forth between Lil Wayne and his label Cash Money Records, there's a chance that he'll be dropping three new projects in the near future.
On Tuesday night (Jan. 3), Tunechi posted, then deleted, a Facebook photo that showed him standing next to 2 Chainz and a group of other men.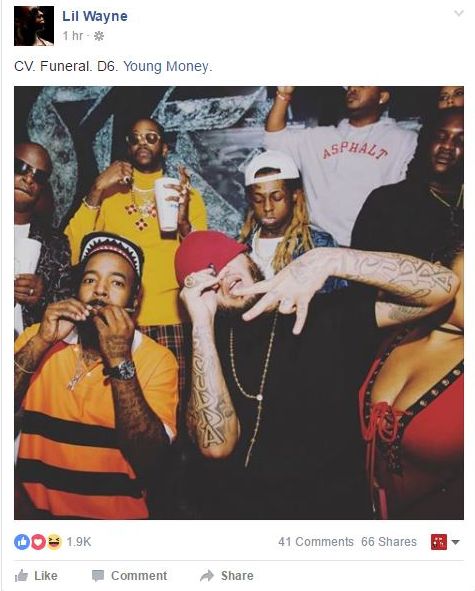 In the caption, he indicated that The Carter V, Dedication 6 and the Funeral project might be on its way soon.
"CV. Funeral. D6," the rapper wrote.
The news could come as a surprise for fans, since Wayne accused Birdman of holding up The Carter V and not paying him the advances for the album that were contractually due to him.

A couple of weeks ago, Hip Hop instigator Martin Shkreli said he purchased songs from the long awaited album through someone who isn't affiliated with Birdman or Cash Money, and played a snippet. Perhaps that set the wheels in motion

Whatever it is, there's no doubt that Wayne's Facebook post has fans excited.

Still, there's lots of questions to be answered.
Discuss