Rolling Loud Miami had as strong a field of rappers as you're ever going to see in one place.
Nevertheless, some fans have deemed the festival a huge failure after Lil Wayne didn't show up for his set.
Weezy was supposed to go on Sunday evening and many of the attendees braved the rain so they could see their rap hero perform in his adopted hometown.
But they didn't get Wayne. Instead, they eventually got a message which read "Due to unfortunate circumstances, Lil Wayne will not be able to perform tonight. We are truly sorry."
There was much sadness in Wayne's world:
I can't even begin to express to you my sadness right now. Lil Wayne didn't go on. Waited in the rain for hours. Flew here from Turkey to see Lil Wayne. I've never been to a music festival with such an amazing lineup yet such a horrible experience my heart is broken lmao

— Tana Mongeau (@tanamongeau) May 14, 2018
Waited in the rain for an hour soaked af ... missed juicy J ... for rolling loud to just turn off the lights and not even say lil Wayne was a no show .. thanks rolling loud Wayne was the biggest reason I came from cali

— Panch (@Paanchitoo21) May 14, 2018
Fuck you @RollingLoud and @LilTunechi for making us wait for AN HOUR in the goddamn rain only to cancel. We didn't pay for this shit.

— chelsey (@xChelseyNicole) May 14, 2018
Lol at the all people pissed at rolling loud for lil Wayne cancelling last minute. It's not the festivals fault 🙄

— Kenshin (@McNastyflip) May 14, 2018
No word on why Wayne canceled. Maybe he was pissed about not headlining.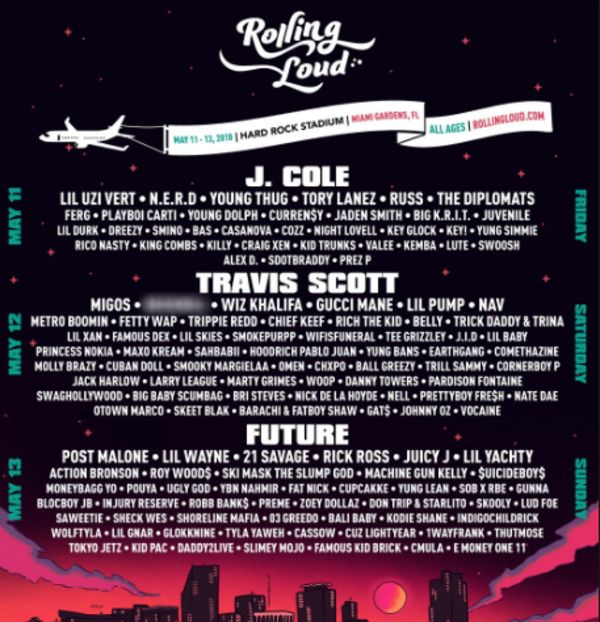 Update: The official explanation of Wayne's absence from Rolling Loud:
Last night, Lil Wayne fell unexpectedly ill ahead of his set time and had to cancel his appearance at Rolling Loud Miami. We apologize to the fans and hope that some of the special guest appearances throughout the weekend, such as Meek Mill, Nicki Minaj, Diddy, A$AP Rocky, hometown hero DJ Khaled, the Waffle House Hero, and the two baristas fired by Duke made for an enjoyable experience. We have a longstanding and healthy partnership with Lil Wayne and his team, and look forward to continuing to work with him and having him on a Rolling Loud stage in the near future.
Discuss