Viral star Slim Jesus isn't just polarizing Hip Hop fans. He's causing tension in Chicago's drill scene.
Chiraq rapper Lil Mister came at Jesus over the weekend, accusing him of "swag jacking" him and challenging him $1500 bucks to fight.
However, Lil Bibby has Slim's back. He was one of the first to post the video for 'Drill Time', and he's been standing up for the 18-year old from Hamilton, Ohio ever since.
#MyLilOne Slim Jesus - Drill Time #YoungSlim http://t.co/oEiOARDZaO

— Bibby (@LilBibby_) September 8, 2015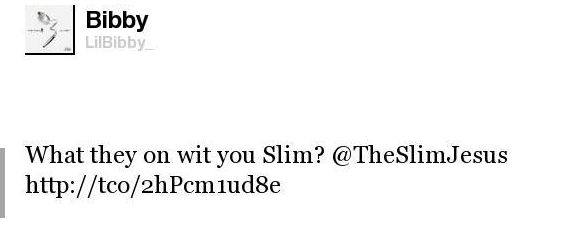 Why they dissing my youngin — Bibby (@LilBibby_) September 12, 2015
As for Slim, he's certainly enjoying himself.
Yall only seen the beginning of the features i got coming in right now tho, just wait on it

— Slim Jesus (@TheSlimJesus) September 11, 2015
Love me or hate me, I got the game all stirred up — Slim Jesus (@TheSlimJesus) September 11, 2015
Too many people riding somebody else wave, im making my own

— Slim Jesus (@TheSlimJesus) September 12, 2015
Discuss