Somebody brutally beat LeSean McCoy's girlfriend Delicia.
Delicia's friend Mia says it was LeSean McCoy. She also accused the Buffalo Bills running back of beating his dog and his son, and of using steroids.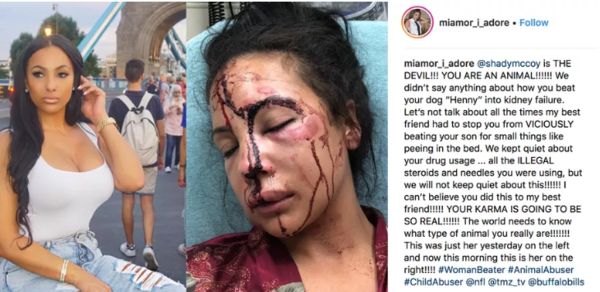 "@shadymccoy is THE DEVIL!!! YOU ARE AN ANIMAL!!!!!! We didn't say anything about how you beat your dog "Henny" into kidney failure. Let's not talk about all the times my best friend had to stop you from VICIOUSLY beating your son for small things like peeing in the bed. We kept quiet about your drug usage ... all the ILLEGAL steroids and needles you were using, but we will not keep quiet about this!!!!!! I can't believe you did this to my best friend!!!!! YOUR KARMA IS GOING TO BE SO REAL!!!!!! The world needs to know what type of animal you really are!!!!!!! This was just her yesterday on the left and now this morning this is her on the right!!!!#WomanBeater#AnimalAbuser#ChildAbuser," typed Mia.
McCoy has a pretty "shady" history.
In 2013, he was sued for pouring water on a woman, hitting her in the face, and ejecting her from a party bus while on the highway. In 2016, McCoy was accused of assaulting two off-duty Philadelphia police officers. He wasn't criminally charged in either case nor was he disciplined by the NFL.
Update: Here's McCoy's response to the latest allegations.
Are you buying that?
Update 2: McCoy recently sued Delicia Cordon to kick her out of a home that he owns. TMZ reports that yesterday an EMT responded to that home's street. There are only three houses on the street.
Here's the dispatch call, which came at 3:23 AM:
Discuss