50 Cent has been promoting men's underwear company Frigo for over a year. We know this because everytime Fif attacks somebody on Instagram he drops an #Frigo hashtag at  the end of his message. 
Derek Jeter also used to promote Frigo. But the Yankee legend quit the gig, in part because he didn't want to be associated with 50, who he said was too "urban" for his taste.
Or so claims a lawsuit filed against Jeter by Frigo.
The Swedish company says Jeter had signed a 3-year deal in 2011 to be a director of the company and had agreed to participate in major publicity events during his tenure.
But once they brought 50 on board Jeter allegedly told Frigo that he no longer wanted to be part of their North American branding, and said that 50's involvement was part of his reasoning.
In filings, Frigo reports the company lost $30 million in value because of Jeter's decision to sideline himself, and are now seeking $4.7 million in damages from the future Hall of Famer.
It's unclear how valid Frigo's specific accusations against Jeter are. But , no matter what, it would seem like another company 50 is involved with has financial issues.
Update: 50 responds: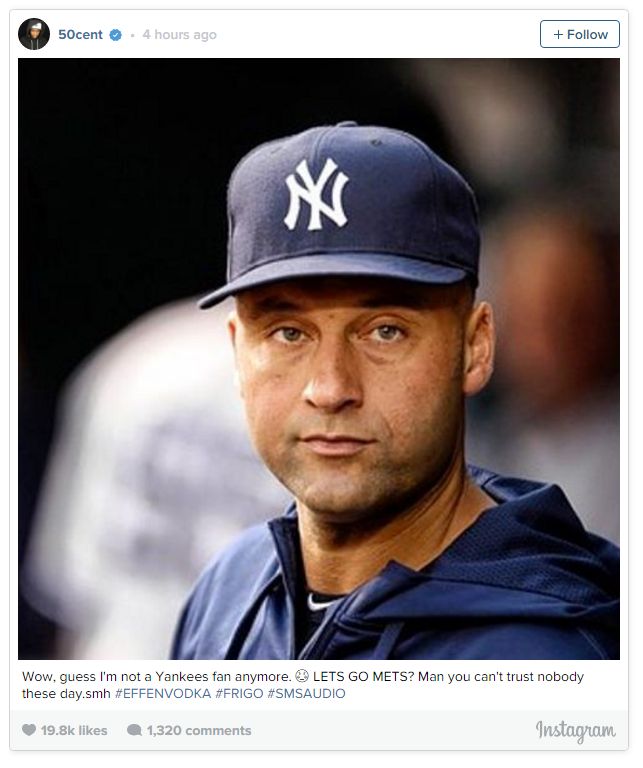 Discuss