There's a post going around social media that claims NBA YoungBoy was found dead in his prison cell.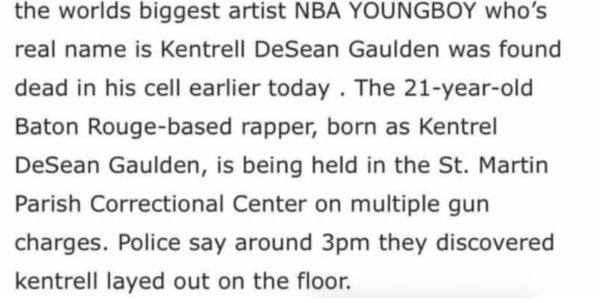 The worlds biggest artist NBA YOUNGBOY who's [sic] real name is Kentrell DeSean Gaulden was found dead in his cell earlier today. the 21-year-old Baton Rouge-based rapper, born Kentral DeSean Gaulden, is being held in the St. Martin Parish Correctional Center on multiple gun charges. Police say around 3pm they discovered kentrell laid out on the floor.
If the "worlds biggest artist" didn't tip you off, this is fake.
But enough people took it seriously that officials at St. Martin Parish had to debunk the rumor to the USA Today in a "fact check" publishes this morning.
YB is locked up without bail on one count of being a felon in possession of a firearm and one count of possession of an unregistered firearm. He is also soon expecting his eighth child and has expressed suicidal thoughts in the past.
Discuss