The good news is Kodak Black's lawyer recently got him out of solitary confinement.
The bad news is he was moved right into protective custody.
Or at least Black thinks that's bad news because he jumped on IG to complain about it.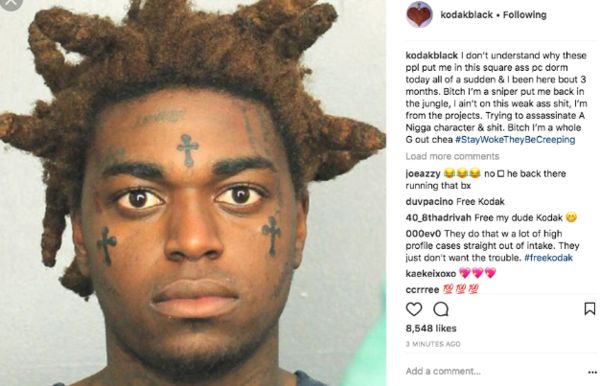 "I don't understand why these ppl put me in this square ass pc dorm today all of a sudden," Kodak wrote in the caption. "I been here bout 3 months. Bitch I'm a sniper put me back in the jungle, I ain't on this weak ass shit, I'm from the projects. Trying to assassinate a nigga character and shit," he said in a now-deleted post.
The 20-year-old has been locked up since his Florida home was raided earlier this year and the cops found drugs and guns.
He faces charges of possession of a weapon or ammunition, marijuana possession, and two counts of probation violations.
Black is on probation as a part of a plea deal he struck in 2016 on charges including robbery, false imprisonment, fleeing a law enforcement officer and possession of a firearm by a delinquent.
Additionally, he is facing 30 years in South Carolina for criminal sexual conduct.
Discuss