PNB Rock was shot and killed at Roscoe's House of Chicken 'N Waffles in Los Angeles yesterday shortly after his girlfriend geolocated on a social media post.
Rock had warned his girlfriend to be careful in LA because the streets are extra dangerous in the country's second-biggest city.
Kodak Black knows about that. He was shot, but not killed, out in Los Angeles earlier this year.
Yak mourned the death of his buddy PNB on Instagram and took a nasty shot at Rock's girlfriend in the process.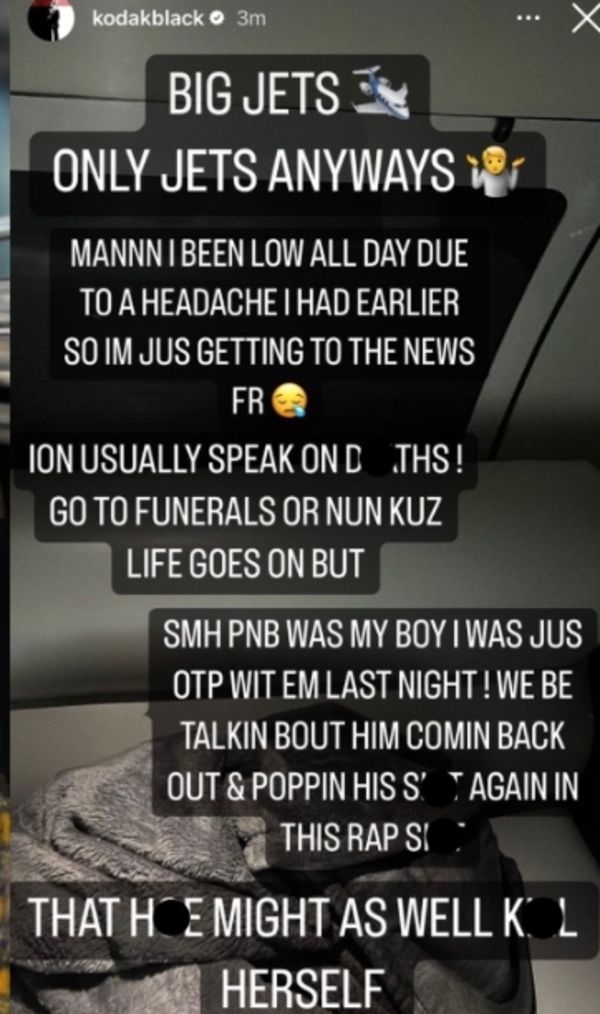 "MANNN I BEEN LOW ALL DAY DUE TO A HEADACHE I HAD EARLIER SO IM US GEETTING TO THE NEWS FR ION UUSALLY SPEAK ON ON DEATHS! GO TO FUNERALS OR NUN KUZ LIFE GOES ON BUT SMH PNB WAS MY BOY I WAS JUS OTP WIT EM LAST NIGHT! WE BE TALKING BOUT HIM COMIN BACK OUT & POPPIN HIS SH*T AGAIN IN THIS RAP SH*T. THAT HOE MIGHT AS WELL KILL HERSELF," Yak typed.
Is that anyway to talk about a woman in mourning?
Discuss