HitsDailyDouble is projecting that Kodak Black's album Kutthroat Bill Vol. 1 will sell 39K in its opening week.
That's not bad, compared to the numbers some of his rap counterparts have been putting up lately
But it's not good for Yak, whose last album Back For Everything did 60K in its first week.
Kodak pushed back on the projections in a social post.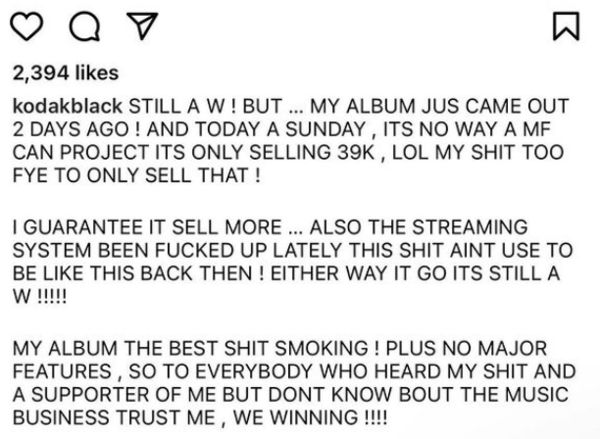 "STILL A W! BUT ... MY ALBUM JUS CAME OUT 2 DAYS AGO! AND TODAY A SUNDAY. ITS NO A MF CAN PROJECT ITS ONLY SELLING 39K. LOL MY SH*T TOO FIRE TO SELL THAT! i GUARANTEE IT SELL MORE ... ALSO THE STREAMING SYSTEM BEEN F*CKED UP LATELY THIS SH*T AINT USE TO BE LIKE THIS BACK THEN! EITHER WAY IT GO ITS STILL A W," Yak claimed.
Do you think Yak will exceed his projections?
Discuss