Kodak Black is in trouble again.
He was arrested last Friday in Fort Lauderdale after his car was pulled over for too much tint and the cops found 31 Oxycodone pills and at least $50,000 in cash.
He bonded out the next morning but may be charged with drug trafficking. His always busy lawyers plan on fighting those charges by testing to see if the pills were actually Oxy.
Last night, Kodak decided to taunt his arresting officer.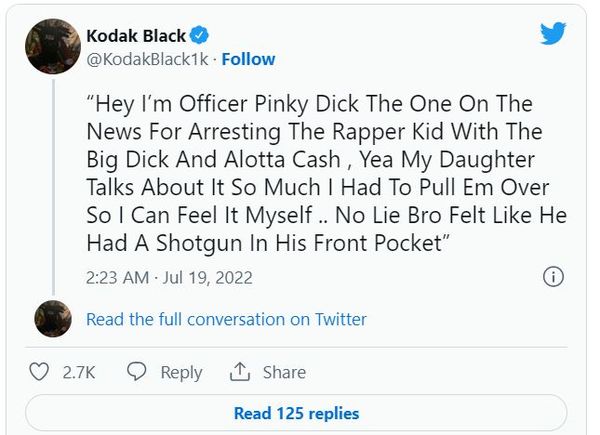 "'Hey I'm Officer Pinky Dick The One On The News For Arresting The Rapper Kid With The Big Dick And Alotta Cash,'" Yak typed. "'Yea My Daughter Talks About It So Much I Had To Pull Em Over So I Can Feel It Myself .. No Lie Bro Felt Like He Had A Shotgun In His Front Pocket.'"
Our goofy ex-President Donald Trump must feel great about pardoning this jokester.
Discuss